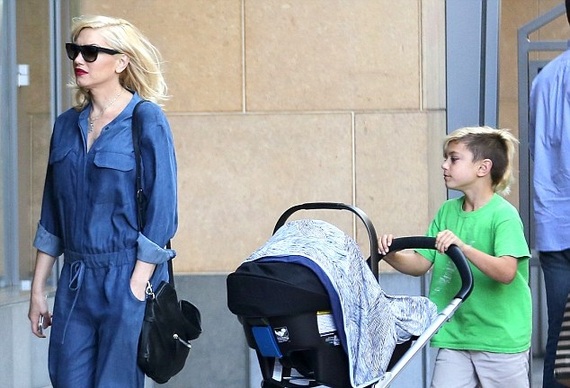 Music superstar Gwen Stefani has jokingly blamed her oldest son Kingston for making her have newest baby boy, Apollo.
Apollo was born in February this year, the third child for Gwen and her husband Gavin Rossdale.
According to Gwen, eight-year-old Kingston had been loudly praying for a new brother or sister.
"He has like a direct link to God, basically. He asked me, 'Mom, are you gonna have a baby? I want you to have a baby,'" the singer said. "I was like, 'It's over. We're not having any more. This is our family.'"
Gwen laughingly impersonated her son:"Dear God, please let my mom have a baby. Please, God! Please let my mom have a baby!"
Amazingly, Kingston's prayers somehow worked.
"I swear to you, he prayed every single night and four weeks later I was pregnant," the mum-of-three said.
"I brought out a cake after we found out it was really going to happen, and it said, 'We're having a baby!' I made him read it...and he goes, 'Ah! I prayed for that!'"
Confident from his apparent success with the man upstairs, Gwen says her son now says a prayer for every single thing he wants.
"He prays for everything. He's like, 'Please, God! Please let me have another cupcake!' He really believes."
Let's hope he only uses his powers for good...