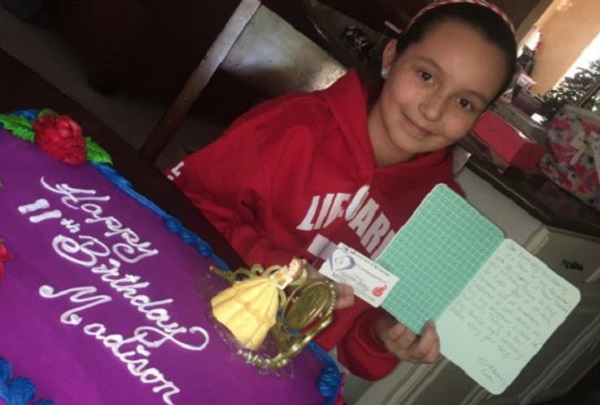 Birthdays are an exciting time for parents. Your little one is another year older, they're growing up before your eyes (not to mention any excuse to eat cake).
But for some parents, birthdays are not joyous occasions. Birthdays and milestones after the loss of a child can be unspeakably difficult for the parents and families left behind.
When Kyle Jauregui went to pick up a birthday cake for his 11-year-old sister Madison, he was shocked to discover that it had already been paid for.
So today is my sisters birthday and when we went to pick up her cake someone had already paid for it. It was left with this card... my family was speechless and we just want to say thank you to McKenna's mom and wish McKenna a Happy Birthday. There's still good in this world pic.twitter.com/ev3IeQKu6q

— Kyle Jauregui (@Shhwaggy_T) 27 December 2017
Taking to Twitter, Kyle shared a picture of the cake with the card that came with it from a kind stranger, singed only as McKenna's Mum.
What was written inside it will break your heart:
"In honour of my daughter's 10th birthday, I have chosen your birthday cake to pay for.
Each year, I do this random act fo kindness because I am unable to buy my daughter a cake of her own.
Today is her big double digit birthday. Please enjoy your day."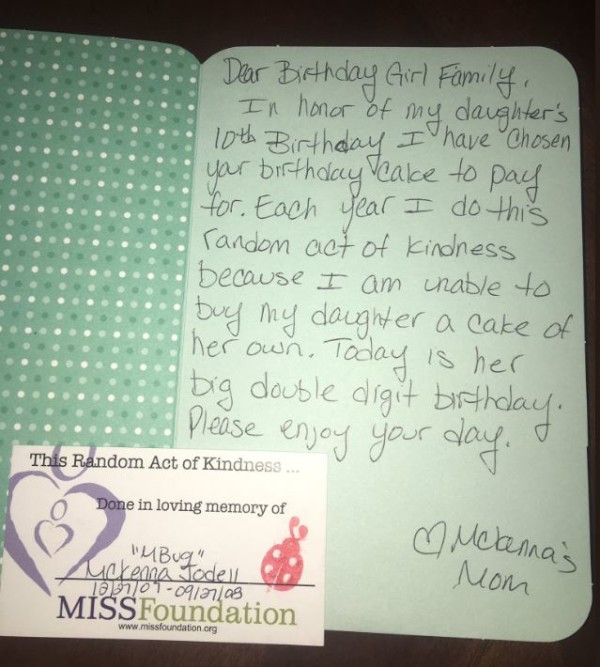 McKenna's Mum, Ashley, tragically lost her little girl in a freak accident nine years ago. The one-year-old died when a television fell on top of her, and now Ashley campaigns for furniture safety awareness.
Writing on her blog, Ashley says that she hopes to keep McKenna's memory alive:
"I am learning lessons everyday in her absence and I want her life to make a difference in this world...In order for people's lives to change I must talk about her and tell her story. I grow everyday and hope one day to make a difference."
Along with paying for the cake, Ashley included a card in memory of McKenna from the MISS Foundation, a family bereavement charity.
The charity uses MISS cards are used to commit random acts of kindness in memory of a loved one.
Speaking to ScaryMommy, Ashley said that she started doing anonymous random acts of kindness in after finding out about the charity.
"She was here and mattered," Ashley said. "Knowing someone reads her name and learns about her means so much."
Kindness, she continued, costs nothing.
"Little things can change a person's day," she said. "It's what life is about, being kind, loving and compassionate towards others."
Ashley's commitment to carrying on acts on kindness in her daughter's name has truly struck a chord:
This brought tears to my eyes my cousin lost a baby and my god it's the saddest funeral I've ever been to.

— Dan (@d_spock) 29 December 2017
I'm not crying pic.twitter.com/5eaVwJjjTY

— veezy (@VeronicaGurley) 29 December 2017
I know McKenna's mom personally and want to say that yes, there is SO much good, so much love, in this world. By sharing this, you have also sent so much of that love out into not only the world but the entire Universe! HappyBirthday Madison! #MBug #Love #Kindness

— Karla Helbert (@KarlaHelbertLPC) 30 December 2017
It bought tears to my eyes. What a beautiful way to honor their child who passed away

— GypsyHeart (@GypsyHeart__) 30 December 2017
We're in bits.