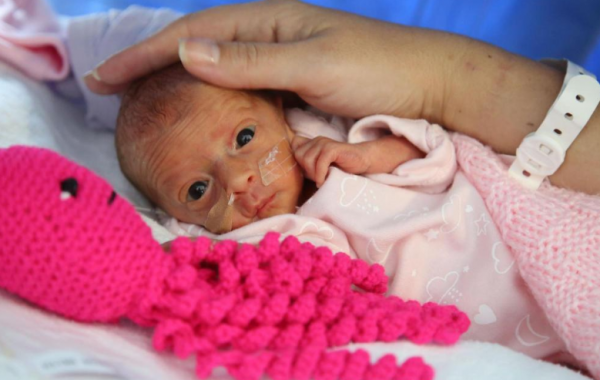 Just when you thought these teeny tiny babies couldn't get any more adorable - now they are going to be snuggling up to cute octopus teddies.
A hospital in Antrim has appealed for anyone with knitting or crocheting skills to make these special toys which will be a snuggle buddy for premature babies in their incubators.
Unison Causeway branch, which represents Ireland and Northern Ireland has asked people to get involved making the knitted octopus toys which will be donated to the unit for the tiny newbies.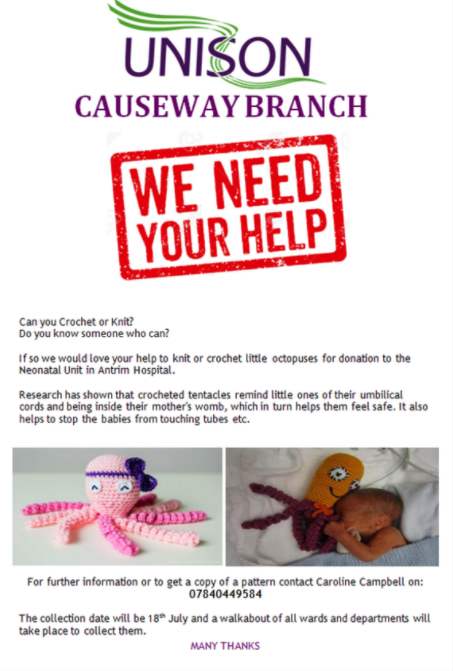 Research has shown that the tentacles of these toys remind premature babies of the umbilical cord and being inside the mother's womb - they are also known to provide distractions for the babies who are in danger of touching or trying to pull their life-saving tubes from their body.
The adorable toys are also a great way of measuring the progress in the newborn's growth.
The unique idea comes from Denmark where it was found that the shape of the octopus toys calmed babies.
Experts in neonatal care said that snuggling the tentacles even led to better breathing, more regular heartbeats and higher levels of oxygen in their blood.
Aberdeen Maternity Hospital recently had a huge response when they appealed to the public to help premature babies in their neonatal unit.
Nurse manager Nicole Bauwens told The Evening Express: "These octopuses are a fantastic way of soothing the babies.The octopus becomes part of the family and the babies have a special bond with them. The staff at the Neonatal Unit are besotted with the interaction the babies have with these octopuses – it really is heartwarming."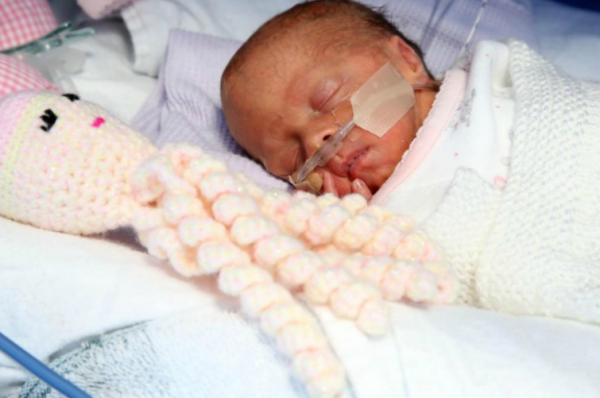 Image via Bournemouth Echo
Poole Hospital in the UK has also embraced the initiative, parents receive a special gift bag complete with an octopus for the 'born too soon' babies to snuggle with while they get strong and healthy.
The cutest part? Babies can then take their little soft toy home with them as a lifelong moment of the first moments in their life and how these little octopus babies made them feel so safe - one tentacle at a time.
Knit your octopus comfort toy with this easy-to-follow pattern and find more information on hospitals accepting them here
Feature image via Poole Hospital