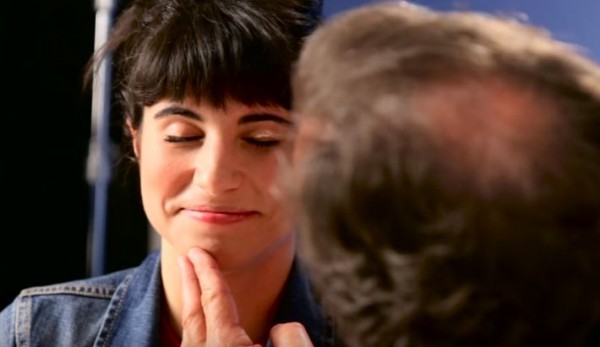 We found ourselves smiling throughout this adorably hilarious Buzzfeed video of clueless dads applying their daughters' makeup.
Tasked with the job to put on their little girls' 'faces', heaps of makeup was spilled onto the table in front of the dads, who looked on with more than a touch of terror.
And the girls were a bit scared too: "I don't want to get my eyes poked out!" laughed one.
We couldn't help laughing as the lovable chaps sifted through the blushers, lipsticks and brushes, as they wondered where on earth to start.
Well, one dad had a bit of a clue, when he mysteriously said, "I used to do my mother eyelashes."
"Okay," said another. "Ever seen the one that goes 'puffpuffpuff'?"
"Yes," replied his daughter patiently.
"Is it here?" he asked confusedly, surveying the makeup pile.
While another grabbed a pair of eyelash curlers and held them aloft, laughing evilly.
And we just LOVE the final reveal, where the daughters survey the dads' handiwork.
SO funny! And how cute are these dads?
SHARE if this made you smile!