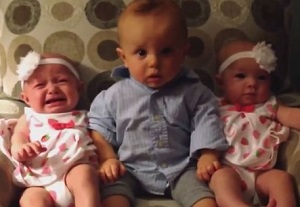 If there was ever a live action definition for confusion and astonishment, this child has nailed it.
Being surrounded by crying newborn twins must be an unusual experience for any young child, but this little boy named Landon is truly dumbfounded when he finds himself sat in between these tiny little ones.
While the crowd of adults trying to capture this special first meeting cannot hold in their laughter at little Landon's hilarious reaction, he tries his best to come to terms with the situation.
Poor Landon's expression is the talk of the internet, and the video has gone viral since being uploaded to YouTube yesterday.
Check out the adorable footage below, and prepare to laugh.