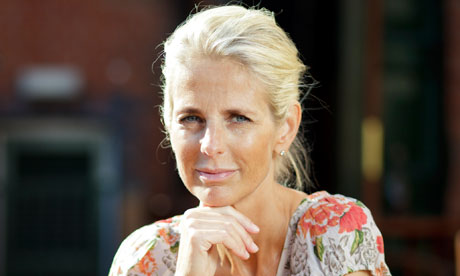 Television presenter and mum-of-four Ulrika Jonsson has spoken out about her fears about her children's use of technology.
Ulrika's children range in age from 19 to age six: Cameron, who turns 20 soon, Bo, aged 13, ten-year-old Martha, and Malcolm, aged six.
Added to her struggles with her kids' use of technology is that her concerns are not shared by her children's fathers.
Ulrika had each of her children with a different ex, who are seemingly much more liberal when it comes to allowing their kids to have smart phones and internet access.
She is currently married to Brian Monet, the father of her youngest son.
In an interview, Ulrika explained her fears, which were sparked by her eldest son revealing that he had seen internet porn when he was 14 years old.
"Four years ago, none of the nightmares of policing my children's access existed." Ulrika explained.
" But they should have done because my 19-year-old confessed to me last year that he had viewed porn on the internet when he was about 14"
"I was utterly horrified and felt a fool for being too trusting and not savvy enough."
Ulrika doesn't want her children to have any access to phones and iPods, but she find she is overruled.
"My oldest daughter, who is about 14, has had, much against my better judgment, an iPod since she was 11 and a mobile phone since she was 12."
"At first her mobile wasn't a smart phone but times have moved on and so, it appears, has she." Ulrika related with concern.
"My ten-year-old daughter was given an iPod by her father last Christmas, and my six-year-old boy can access the family iPad."
Ulrika is desperate to restrict her children's access and warn them of the dangers of going online, but finds she is unable to protect them. Recently she discovered her daughter had set up a Facebook account, which she has now been banned from.

"When we found out, she was made to understand in no uncertain terms why she couldn't have one and why we need to know what she does on the Internet." Ulrika said.
The presenter finished by explaining her helplessness against modern technology.
"I, alone, cannot protect them from everything, including the content they have at their fingertips and which they absorb unwittingly."
"What they view on the Internet enters their psyches and I would do them a grave injustice if I didn't alert them to the fact that not all of it is good."