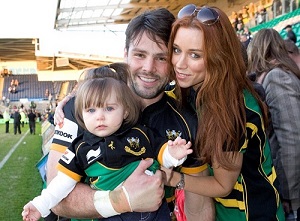 There is something about Frozen hit 'Let It Go' that gets our little princesses in rare form, isn't there?
Last year, a little girl got very angry with her parents when they failed to contain their laughter at her rendition of the song, and now Una and Ben Foden's daughter Aoife Belle has been spotted acting in a similar fashion!
Proud dad Ben took to his Instagram account to share a hilarious video of Aoife, dressed up in her Elsa costume and singing Let It Go, and getting pretty mad at him when he gives his own rendition of the popular song!
Captioning the video, 'Is my singing really that bad?', Ben can be heard laughing as poor little Aoife tries in vain to get him to stop stealing the spotlight.
Check out the adorable video below.
It's no doubt an exciting time in the Foden household, with singer Una due to give birth to her second child very soon.
Obviously the anticipation is proving too much for some members of the family!