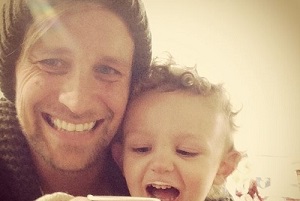 Congratulations are in order for Westlife singer Kian Egan and his wife Jodi Albert, who have announced that they are expecting their second child.
The couple chose to reveal their wonderful news in a very special way that put their little son Koa at the centre of the celebrations.
Taking to Twitter, Kian shared a link to his Facebook page, writing: "Koa has some big news to share with you all! Listen carefully now!"
He then shared a video of Koa proudly saying: "Mummy's got a baby in her belly and I'm going to be a big brother!"
While no further details have been revealed, Jodi's excitement is clear from the smiley faces all over her Twitter page.
Kian and Jodi tied the knot in 2009, with the couple welcoming son Koa two years later.
What fantastic news. Congratulations to the family.