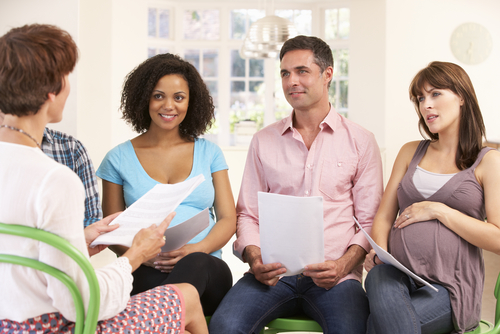 If you are a first-time mum, antenatal classes can seem like a scary place full of facts and gory details. However, there is a lot more to the classes than you might think, with all of it being beneficial to pregnant ladies.
Here are five reasons you need to go to your antenatal classes:
You will meet new people
Whether this is your first, second or even fifth pregnancy, antenatal classes are a great way to meet new people who are going through the same thing as you. Even if you have huge support from family and friends, talking to someone who is at the same stage of pregnancy as you can be particularly helpful. While your non pregnant friends are less likely to sit through any gory details, your pregnant friends will know exactly what you are going through.
They are great to get your partner involved
It can be hard for partners to feel involved in a pregnancy, especially during the early stages. However, antenatal classes provide an opportunity for your other half to feel like they are part of it as they are taught how to help you breathe and cope with the pain. Even if they are just there to hold your hand, encourage them to come along.
They prepare you for labour
If you haven't had the pleasure of experiencing labour before, antenatal classes will certainly get you ready. With the use of diagrams, props and dolls, you will be shown exactly what happens and how you can prepare yourself for it. They will offer advice on how to cope with the pain and will also discuss your pain relief options.
How to look after yourself
It's not all talk about baby and how to manage pain though, antenatal classes are also great at offering advice on healthy eating, exercising and any symptoms that you need to look out for. Pregnancy can be a particularly emotional time but the classes can help you deal with your feelings and help you understand them.
How to care for your baby
If you are a first-time mum who hasn't had much experience with babies before, the thoughts of caring for a tiny newborn can be daunting. But these classes will help to put your mind at ease - teaching you the basics of taking care of your baby.