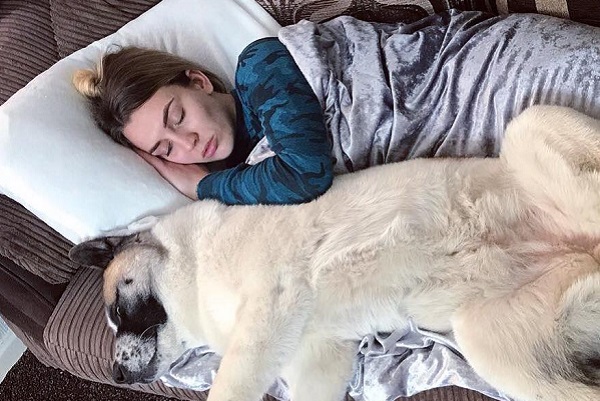 Keola deserves all of the belly rubs.
Alhanna Bulter has the smartest dog in Britain. In 2016, she and her husband Ricky binned what they thought was a negative pregnancy test, only to find out that that American Akita Keola had picked it out of the bin to show it was in fact 'positive'.
During the pregnancy, the now 24-year-old started experiencing severe back pain. After feeling ill and presenting to the hospital they sent her home, saying that the pain was due to her small frame.
However, the dog knew something was wrong. After posting a picture to social media of Keola staring at her bump and whimpering, concerned family members urged Alhanna to go back to the hospital.
"I have absolutely no doubt that both me and Lincoln would not be here today if it wasn't for Keola," Ahlanna told The Mirror.
"It was incredible. She knew I was seriously ill when no one else did and she made sure she told me. Whenever I went out the house, Ricky said she would cry and pace around and she had never done this before. She would follow me around when I was sick and sit staring at me.
"When the doctors sent me home and said there was nothing seriously wrong, she just sat staring at me so intently that it really scared me.
"I posted a picture of her doing this on Facebook and made the joke about the film Hatchi where the dog also does this and suddenly my friends all started saying I should take it seriously.
"Then my mum phoned and said 'listen to your dog, she is trying to tell you something'. It turns out she was absolutely right - and she saved our lives. She is the most amazing dog and I owe her my life.
When Ahlanna checked herself into hospital, it was revealed that she had an anti-biotic resistant double kidney infection. Doctors said that if she'd come any later she would most probably have died.
She barely remember the next two weeks in intensive care as doctors rushed her save her life. The bug she had been infected was so rare that doctors had only seen it once before, leading them create a new antibiotic in the lab especially to treat Alhanna.
Thanks to Keola, Ahlanna's son Lincoln is now a bubbly 2-year-old. The two are inseparable.
Now, Keola and Licoln share a Facebook dedicated to documenting their adorable adventures. Just look at them!
She's the best dog.