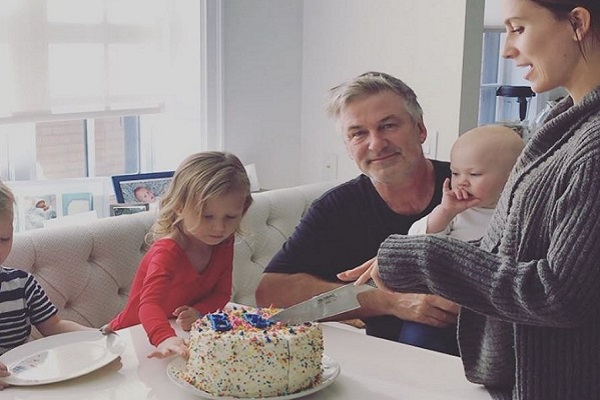 We were thrilled to hear that actor Alec Baldwin and his wife Hilaria are expecting their fourth baby.
The couple has shared another exciting announcement with fans by using one very sweet treat.
Hilaria shared a photo of a cake covered in white frosting and sprinkles with the word baby on it in pink and blue frosting.
The mum-of-three had spent hours working on the cake, she wrote, "It's 9:30 and we have finally finished the cake! Carmen is still up and has eaten SO much funfetti."
She teased fans, "I'm so excited to tell you all tomorrow if it's a girl or a boy!!! I'm gonna have the kids cut the cake with us!"
The mum stayed true to her promise and shared a video of her family cutting the cake together.
In the video, as Hilaria cuts the first slice she asks their three kids what they think it will be. The family gasp as Hilaria shows them the blue cake.
Alec tells the tiny tots the exciting news, "The magic cake says it's a boy."
This is one of the sweetest gender reveals we've seen this year. Alec and Hilaria's three kids make the video extra special.
Hilaria went on to share some stunning photos of the close-knit family enjoying the 'magic cake'. The couple's eldest daughter Carmen can be seen giggling in one photo as Alec passes out slices of the cake.
One photo that stole our hearts was of their youngest son Leonardo, who is only 13 months old. Hilaria shared an adorable snap of her son stuffing his face with the giant cake placed on the table in front of him.
Fans flooded the gender reveal video with messages of support, one wrote, "Such a super cute idea and so happy for you, another wonder on the way."
Another commented on how content Alec looked, "So happy for you guys!!! Love Alec's happy face when he is with his kids."
We love how open the pair are being about their family life. Sharing the news with their fans is important to Alec and Hilaria.
The doting parents made the grand announcement on Instagram this weekend with Hilaria writing, "Our Baldwinitos are getting a new teammate this spring."
Alec kept things simple and captioned his photo, "Here we go again..."
Alec and Hilaria have three children together- 4-year-old Carmen, 2-year-old Rafael, and 1-year-old Leonardo.
Alec also has another daughter- 22-year-old Ireland- from his previous marriage to Kim Basinger.
We cannot wait for The Boss Baby star to welcome another son into the world next Spring.