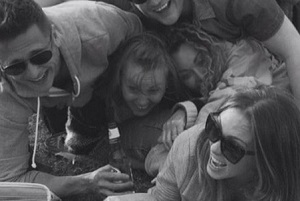 Choosing your baby's name is one of the hardest and most important things you will have to do for your child.
HBO's Games of Thrones has become an overnight hit and as the obsession with the show grows, there is bound to be a ripple effect on the names of kids.
Naming your child after a celebrity or a TV character is not unusual, think of the amount of Bellas from Twilight, Jesses from Breaking Bad or Dons from Mad Men that seem to be popping up.
So, it is not surprising, especially if you are a fan of Games of Thrones, to have considered Khaleesi or Arya as a potential baby name.
In fact, in 2012, 700 American babies were given the name Arya, although that was a pretty popular name before the show came out.
The TV show is based on the fantasy novel by George R. R. Martin and the characters have been given some exceptional names like, Brienne and Catelyn. Most of the names are unusual but still have a great ring to them, making them perfect for any mums who want a unique name for their new baby.
So, if you are feeling brave you might want to choose your baby name choice from the following list:
Girls:
Arya,
Brienne,
Catelyn,
Cersei,
Daenerys,Lysa,
Margaery,
Melisandre,
Myrcella,
Osha,
Selyse,
Shireen,
Talisa,
Yara and
Ygritte.
Boys:
Benjen,
Bran,
Bronn,
Eddard,
Gendry,
Gregor,
Grenn,
Jeor,
Jorah,
Khal,
Ramsay,
Tyrion and
Varys.