Flor Bacasegua was pregnant with her fourth child when she endured a 45-minute commute from her home in Mendota, California to a winery in Madera.
She worked as overnight security, and the hours were more strenuous than what she had been through during her previous three pregnancies.
The 31-year-old said, ''Sometimes I would have to reschedule appointments. It didn't let me enjoy my pregnancy."
She'd quit by the time she was five months pregnant and gave birth to a healthy son - but a study shows how risky the stress of a long commute could be for pregnant women.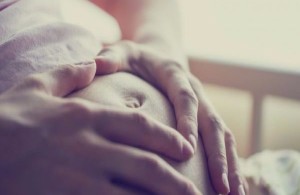 The study led by researchers at Lehigh University and the University of Wisconsin-Madison found a link between the distance a woman travels to work every day while pregnant and the health outcomes for her kid.
This includes low birth weight, the likelihood of a C-section, and intrauterine growth restriction, or when a baby doesn't reach a normal size as measured throughout the pregnancy.
Previous research has examined how the distance between a woman's home and her doctor's office affects the health of her child, but this study is the first to look at home in on the daily travel of pregnant women's commutes.
For pregnant workers who travel at least 50 miles to work, increasing the distance by 10 miles raises the likelihood of low birth weight and intrauterine growth restriction by 0.9 and 0.6 percentage points.
Carrying out this commute every day also make it more likely that those carrying a male fetus will deliver via caesarean section (as male fetuses have been shown to be more sensitive during pregnancy.)
Long commutes create issues like difficulties in making it to prenatal appointments and general stress so perhaps it is something that should be taken into account when a woman is pregnant.
In the words of Fabiola Santiago, a campaign manager for the paid leave advocacy organization PL+US, ''If we have a policy where people can take time off before they give birth, we can improve the health of the mother and child.''