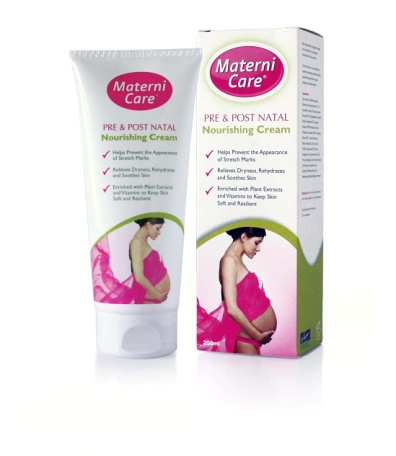 Stretch marks are extremely common, affecting over three quarters of women during pregnancy, so why not make them a thing of the past? During pregnancy your skin stretches an extra two square feet on average and then returns back to normal in just a short few months, so whether it's your first or third child it is a necessity to look after your skin during pregnancy.
The pregnancy skincare experts at MaterniCare® Pre & Post Natal Nourishing Cream have developed a unique formula to care for your skin as your bump grows and support your body as you recover. The distinctive blend of rich plant oils and vitamins ensure the skin is nourished, protected and cared for throughout this time. The soft, hypoallergenic formula is full of pro-vitamin B5i – a powerful natural skin healer and protector, which also combines almond, avocado and grape seed oils, vitamin E and soothing calendula.
It is MaterniCare's mission to help you fight against the appearance of stretch marks and much more. MarterniCare not only helps fight against stretchmark's but it is also a favourite among mums for its beautiful light fragrance, its cooling feeling on application, easy to absorb and non-oily properties and the ability to leave even very dry itchy skin feeling soft and smooth.
Stretch marks are caused by collagen tearing below the skin, as we get older our skin loses its elasticity and makes stretch marks more common. Using MaterniCare to massage into your breasts, tummy, thighs, hips and bottom twice a day will encourage your skin to remain strong, smooth and supple throughout.
For more information on you and your skin during all the stages of pregnancy and the benefits of using MaterniCare Pre & Post Natal Nourishing Cream visit
www.maternicare.com
.