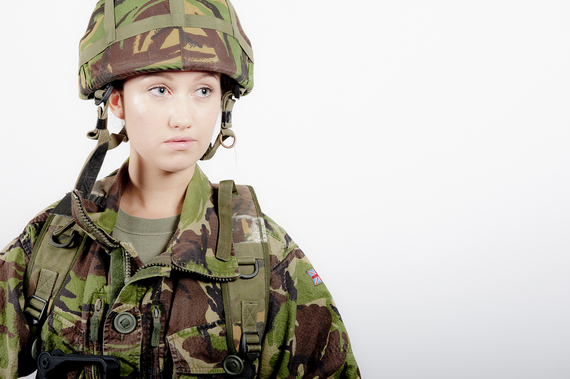 Pregnant women serving in the British Army are up in arms about the standard issue maternity kit they are expected to wear. Captain Susie King, who serves in the Royal Signals, wrote in the Army magazine Soldier:
"As a pregnant woman trying to work right up until my due date I'm shocked at how poor the Army's maternity wear is.
"I have spent the last eight months switching between clothing as my bump grew. I initially went down the route of getting larger and larger sizes of standard shirt and trousers.
"I then tailored my slacks myself using elastic panels so that I didn't have to wear a pair that swamped me in other areas.
"However, a couple of months ago this no longer sufficed."
King switched to the standard maternity wear issued by the army, but found the elasticated trousers weren't strong enough and "had a habit of suddenly falling to the floor.
"My last option was the unstylish beige maternity dress, worn with beret cardigan and brown lace up shoes. It's fair to say the look this creates has generated a fair amount of amusement among my colleagues.
"It's not really a laughing matter when pregnant serving women are being denied the opportunity to look professional in the workplace.
"Can't we be supplied with smart maternity garments that look and work as well as the standard versions?"
Apparently the maternity wear is now under scrutiny. Lieutenant Colonel Simon Blake states: "The Ministry of Defence uniform acquisition has been focused on operational requirements in the last few years with combat garments and high profile parade and ceremonial uniforms understandably being the top priorities.
"As the Army returns to contingency we are looking more at workwear appearance and it's hoped this will include the maternity uniforms."
Being pregnant has long been an issue for serving mums. Up until August 1990 female soldiers could be sacked if they became pregnant, and today more than 200 women have been sent home from war zones after discovering they were pregnant.