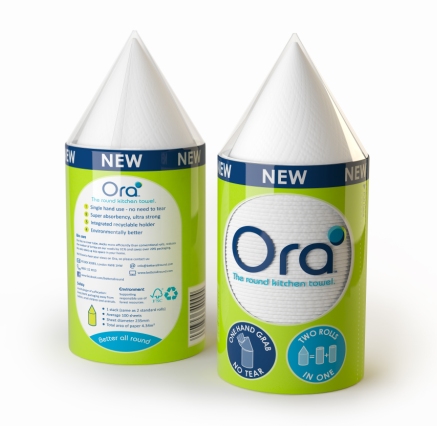 If there is one thing we are constantly using in our kitchen, its kitchen paper. Whether it's for kiddie messes or mum spilling her coffee or dad leaving a mess after making his sandwiches, kitchen paper is like mummy's side kick for cleaning up.
We recently came across this super-handy product that has reinvented the kitchen towel. Ora is a kitchen towel that is more effective, economical and environmentally friendly.
Available at Tesco, Ora Kitchen Towels are folded and stacked separately. Unlike the conventional continuous roll of perforated sheets, Ora's individually folded sheets mean you need only one hand to pick up a single sheet, clean up and bin it immediately – which is super handy when your hands are full (which is generally all the time for mums). It's also more economical as you only grab one sheet, when you would normally grab two or three.
The innovative stacking system allows Ora to fit twice the number of sheets as you'd find on a traditional roll. That means fewer trips to the shops, better value for money and more space on the kitchen worktop. There is also a Compact Stack available for smaller spills, which has the same number of sheets as a standard roll but a fraction of the size.
On top of all this, Ora is kinder to the environment. Because of the space-saving stacks, packaging is reduced by 20%. It also means 30% fewer trucks are required to deliver the same quantity of kitchen towel to your local store.
Ora Standard Stack Kitchen Towel is £1.89 and Ora Compact Stack Kitchen Towel is £1, available exclusively at Tesco from 19th November.