Chicken satay with coconut rice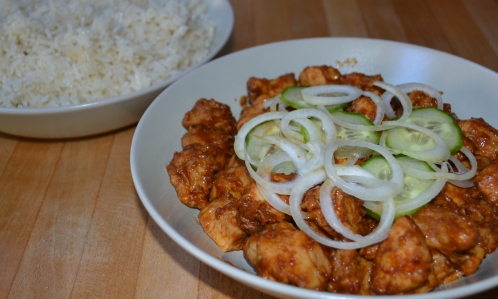 If you are a fan of a chinese take away, why not try and make it yourself and save a little money.
450g diced chicken breasts cut into 2.5cm/1in cubes
1½ tbsp groundnut (peanut) oil or sunflower oil

For the marinade
3 tbsp light soy sauce
1 tbsp rice wine or dry sherry
Salt and freshly ground black pepper
2 tsp cornflour

For the sauce
3 tbsp sesame paste or smooth peanut butter
1 tbsp coarsely chopped garlic
½ finely diced red chilli
2 tbsp cider vinegar
2 tbsp light soy sauce
2 tsp olive oil
2 tbsp hot water
2 tsp caster sugar
Salt and freshly ground black pepper

Coconut Rice:
2 cups of rice
2 cups of coconut milk
1 3/4 cups of water
2 tbsp of shredded coconut
1/2 tsp vegetable oil

To serve
50g very thinly sliced onions
100g very thinly sliced cucumbers
In a medium-sized bowl, mix all of the marinade ingredients, until well combined. Add the chicken to the same bowl and mix well ensuring the chicken is well covered with the marinade. Allow to marinate for at least 60 minutes at room temperature.
Drain the chicken discarding the marinade.
To make the sauce:
Put all of the sauce ingredients in a food processor and process until very smooth.
Place a wok or large frying pan on the stove and heat to a high heat – it should be very hot. Add the groundnut oil.
When the oil is very hot and slightly smoking, add in the chicken pieces and stir-fry for around five minutes until the chicken is browned.
Turn the heat down to low and add the prepared sauce. Continue to stir fry for another five to ten minutes until the chicken is cooked.
Our Recipe Tester suggested Coconut Rice to serve with the Satay. To make the rice rub oil over the bottom of the pot. Cook rice, coconut milk, water and shredded coconut in a pot, when it has began to gently bubble, reduce the heat. Cover with a tight-fitting lid and cook over a low heat for 20mins. Stir occasionally to keep rice from sticking. When cooked turn off the heat and leave the covered pot on the heat to steam for another 5-10 minutes. This will also keep the rice warm while cooking the Chicken Satay.
Serve immediately with rice - garnish with the onion and cucumber.
Serves
2
Preparation Time
15 minutes
Cooking Time
20 minutes
Main ingredients
Flour, Alcohol, Chicken, Vegetables, Rice
Recipe Type
Dinner
Cuisine
Asian
Level of Difficulty
Easy
To make life a little easier you might want to marinate the chicken ahead of time.
Other recipes you may like
Trending and Sponsored