Garam Yorkshire Hotpot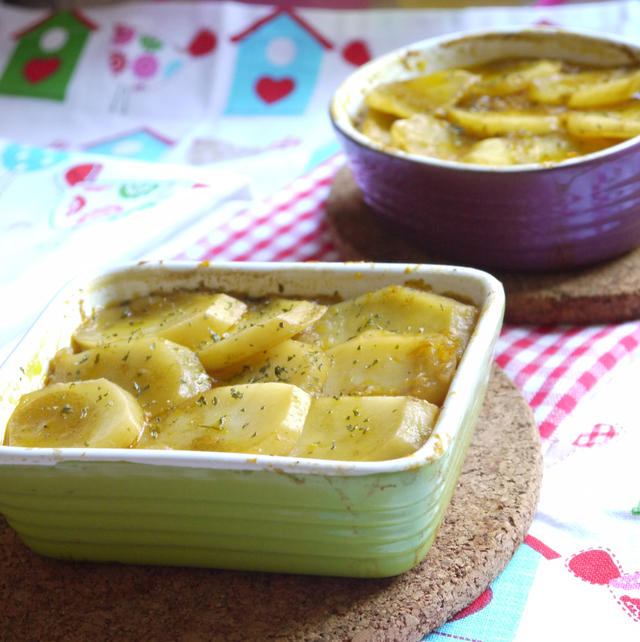 A traditional slow-cooked meal originating from the north of England. This is a hearty hotpot with a little garam masala thrown in for difference. Loaded with iron for baby, this meal is delicious and nutritious.
25g (1 oz) unsalted butter
100g (31⁄2oz) lean lamb cubes – boneless, fat-trimmed, cut into 1cm pieces
Sprinkle of plain flour 1⁄2 onion – peeled, chopped
1 medium carrot – peeled, washed, shredded
1 bay leaf
1⁄4 tsp minced garlic
1⁄4 tsp ground garam masala
60ml (21⁄2fl oz) lamb stock – baby- friendly
1 white potato – peeled, washed, sliced
Pre-heat oven to 160C/ 325F/ gas mark 3.
Melt the butter in a frying pan and add the lamb and flour. Stir-fry continuously until the lamb pieces have browned. Then remove and place in a small oven-proof dish.
Using the same frying pan heat a little oil and add the onion, carrot, bay leaf and stir-fry until the onion is soft and golden. Add the garlic and garam masala to the pan and stir- fry for a further 30secs, then immediately pour the mixture over the lamb in the ovenproof dish followed by the stock. Place the potato slices in a layer over the top until it forms a cover for the stew underneath.
Brush a little melted butter or oil over the potato slices, cover the dish loosely with foil and place on the middle shelf of the oven and slow cook for 11⁄2 hours.
Allow cooling and shred or mash the meal as necessary for baby. For older children serve with a side of freshly cooked vegetables for a more filling meal. Delicious!
Serves
2
Preparation Time
20 minutes
Cooking Time
100 minutes
Main ingredients
Vegetables, Lamb
Recipe Type
Dinner, Family Dinners, Kids Food, Slow cooking
Level of Difficulty
Easy
Freezable, 4 toddler servings or 2 adults.
Other recipes you may like
Trending and Sponsored