Hedgehog cake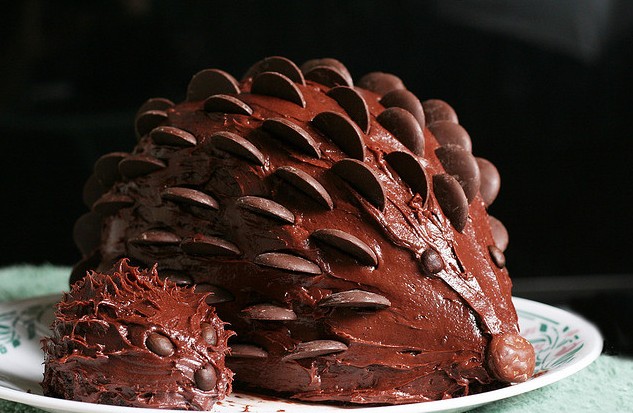 This little guy is always a real winner at kiddies birthday parties.
145g self raising flour
145g butter at room temperature
145g caster sugar
2 large eggs - beaten
Icing
30g cocoa - we like Green & Blacks
45ml or 3 tbsp boiling water
180g butter at room temperature
320g icing sugar
To decorate:
2 tbsp raspberry jam
Chocolate buttons
2 brown M&M's or chocolate drops for the eyes (or raisins will do fine)
1 toffee sweet or Malteser for the nose
Preheat the oven to 180°C/350°F/Gas 4 and lightly grease and line a 20cm sandwich tin or a pyrex bowl which will give the hedgehog shape!
Put all of the cake ingredients into a large mixing bowl and beat well until smooth and creamy.
Spoon into the prepared tin - making the mixture even with a spatula or back of a spoon.
Bake for 30 - 35 minutes - the cake should be well risen and spring back when gently touched.
Allow to cool in the tin for 10 minutes and then turn onto a wire tray and allow to cool fully.
To make icing:
Dissolve the cocoa in the boiling water, making a paste - allow to cool.
Beat the butter until really soft and fluffy (it should go a pale lemon when ready). Add the icing sugar and beat really well until mixture makes a plopping sound when mixed.
Beat the cocoa into the icing.
To make hedgehog:
Cut cake in half vertically and sandwich the two halves together using jam on one half and some of the icing on the other. Sandwich the two sides together. Try and match the top to the bottom as they were originally when you first cut the cake. This will make it more secure.
At this stage transfer your cake to your serving board. To keep it clean during icing, take some triangles of greaseproof paper and gently put them under your cake. Once icing is finished, they will be messy and you can gently remove them leaving a clean cake board!
Cut a piece of cake off at the back of the hedgehog, slicing down through the cake as if you are taking a slice off. Cut it in half and use the two pieces to create the snout at the front. 'Glue' it to the front of the cake with some prepared icing.
Then spread the remaining icing all over the cake using a little extra around the 'snout' that you have just created.
Ensure the icing is smooth and then, mark it all over, using a fork.
Stick the buttons into the icing all over the hedgehog's body to resemble bristles or you can lie them down for a more 'gentle' finish.
Stick on the nose and eyes.
Remove the greaseproof paper which has been keeping your cake board clean very gently.
Serves
4
Preparation Time
60 minutes
Cooking Time
30 minutes
Main ingredients
Dairy, Flour, Chocolate
Recipe Type
Party Food, Cakes & Baking, Cake Stall
Special Info
Gluten free, Nut free
Level of Difficulty
Medium
Other recipes you may like
Trending and Sponsored