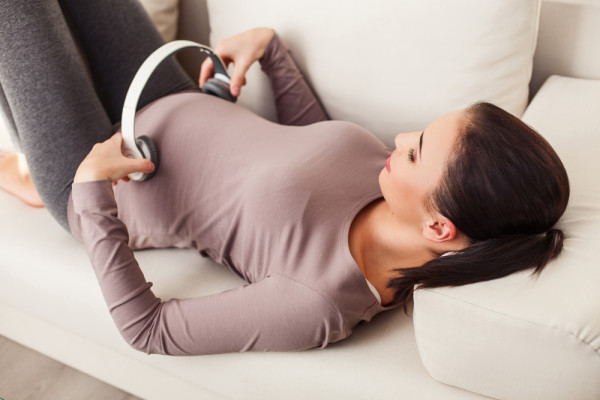 Well it's been proven. Babies love having a bop in the womb.
New research from Spanish researchers has found that nearly all foetuses respond positively to classical music- and 'YMCA' by The Village People.
Scans revealed 90% showed signs of positive stimulation to such as movement of the mouth and tongue when they were exposed to YMCA. At least we know they have good taste.
Classical music, in particular Mozart's 'A Little Night Music' caused a reaction in 91% of foetuses. The lowest scorer, much to our surprise was Adele's 'Someone Like You'.
The effect of classical music on unborn babies has been debated since the 1990's. According to The Huffington Post, some research found a correlation between classical music and higher intelligence while others maintain that it's a myth.
Research was carried out by the fertility clinic Institut Marquès as to whether music has an impact on foetuses and if music genre can make a difference.
The latest study exposed 300 foetuses to 15 different songs via a specially developed vaginal speaker. The music was divided into three genres- classical, traditional and pop-rock. The foetuses who were between 18 and 38 weeks of gestation, observed on ultrasound scans to capture their reactions.
The music genre which caused the highest percentage of foetuses moving their mouth was classical music (84%). In second place was traditional music (79%), and lastly pop rock music (59%). However, 'YMCA' and Queen's 'Bohemian Rhapsody' appeared to be two exceptions to the rule. In fairness, they are great tunes.
In foetuses that were old enough to stick out their tongues, classical music caused 35% to react, followed again by traditional music (20%) and pop-rock (15%). This is highly unusual as only 3 to 5% of foetuses stick out their tongue without any external stimulus.
Therefore, the results show "the importance of the early neurological stimulation, which can activate brain areas related to language and communication".
"Music is a form of ancestral communication between humans, the communication through sounds, gestures and dances preceded the spoken language", explained the director of the Institut Marquès, Dr López-Teijón.
"The first language was more musical than verbal, and it still is; we still tend instinctively to speak in a high pitched voice, because we know that newborn perceive those better, and this way they understand that we want to communicate with them."
So there you go, kick your feet up and stick on some Mozart- it's good for you AND the baby!