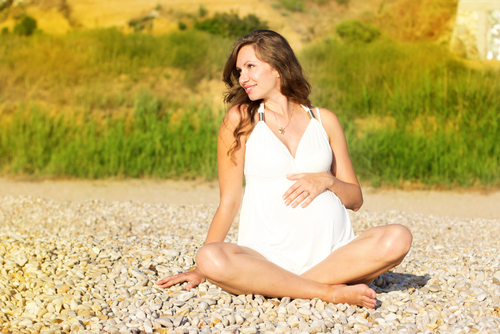 Staying safe in the sun is important even if you're not expecting, however, you need to be extra careful when you are pregnant as your skin is a little more sensitive to the sunlight.
Your body is going through a lot of hormonal changes that make your skin more sensitive to the sun. Because of this, the melanocytes (pigment-producing skin cells) react a lot more to the sunlight causing dark-brown spots all over your skin.
What to avoid
Not all sunscreens are safe for pregnant ladies. Avoid ones that contain Oxybenzone, Homosalate, 4-methylbenzylidene camphor, Octocrylene and para-aminobenzoic acid. Continue to avoid these after the birth if you are breastfeeding.
What type of cream
Go for sunscreens that aren't absorbed into the skin, but rather sit on top of it. Pick up ones that contain zinc oxide or titanium dioxide as they form a barrier on the skin. Go for a cream rather than a spray so you won't miss any areas.
Protect your bump
Avoid the bikini, unless you are going to be extra vigilant when it comes to applying sunscreen, because you don't want a burnt bump. It will also stop your linea negra (the line from your bellybutton down to your pelvis) getting any darker.
Protecting your lips and eyes
Don't forget about your lips and eyes. Invest in a sun protector suitable for your lips and never leave the house without your sunglasses on.
UVA and UVB SPF
Make sure you choose a cream that protects form both UVA and UVB rays. And opt for an SPF of at least 30, even if you were a 20 or lower kind of girl before.
Staying sun safe
Make sure you cover up when you are out in the hot sun by wearing a hat, loose t-shirt and long skirt for added protection. Avoid the sun during the hours of 11 and 3 as UV rays are higher, and try to stay in the shade where possible.
Invest in some pretty summer maternity wear, apply your sunscreen and enjoy the summer.