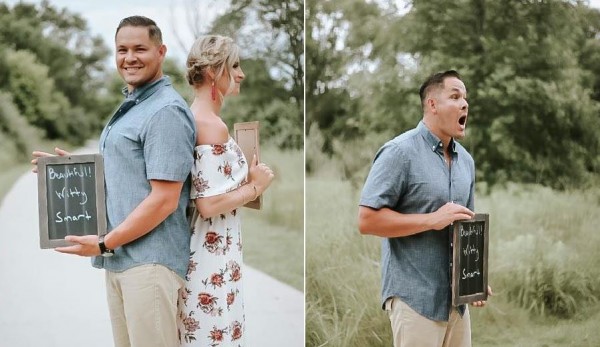 When Will went along to a regular couple's photoshoot with his wife Chelsie, he was surprised to learn that the photographer had a trick up her sleeve.
Kara Quinn, was the woman behind the lens, but she wanted to have a bit of fun, and little did Will know that his wife was in on the fun too.
The women got together to create a game.
So with no idea of what was happening, Kara asked Will to grab the chalkboards and write down three qualities in his wife that he admired.
Chelsie was to complete the same task, but her 'qualities' piece was a little different than Wills, and when he saw her board, his face completely changed!
Will had revealed that he admired Chelsie because she was 'beautiful, witty and smart'.
And while Chelsie found the qualities endearing, her board stated something else entirely, reading: "You're going to be a daddy!"
Kara captured the exact facial expressions of Will as he read the board with each snap being cuter, and more heart-warming than the previous.
Isn't this an adorable idea for surprising your partner with the good news?