Champion's chocolate cake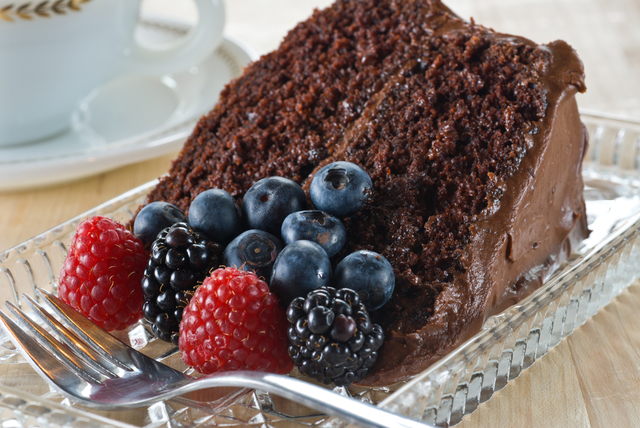 This deliciously decadent chocolate cake is fit for an Olympian!
142ml carton cream
175/6oz plain chocolate (min. 70% cocoa solids)
175g plain flour
75g plain chocolate (min. 70 % cocoa solids)
200g butter
175g golden caster sugar
3 large eggs
1 teaspoon baking powder
100g packet ground almonds
2 tablespoons sieved cocoa
2 tablespoons milk
1 teaspoon vanilla essence
For chocolate cream:
Preheat oven to 190°C/375°F/Gas 5. Grease a 23cm/9" tin lightly with butter and line the base.
Add the broken chocolate into a heatproof bowl. Add 25g of the butter and leave bowl stand bowl over a pan of hot water until chocolate has melted.
Meanwhile tip in the remaining butter, caster sugar, eggs, flour, baking powder, ground almonds, cocoa, milk and essence into a large bowl and beat until smooth and creamy.
Add in the melted chocolate and gently stir into the mixture. Transfer to the prepared tin and level the top.
Place in the oven to bake for about 40 minutes until risen and the surface feels firm to the touch. Take out of the oven. Leave to sit in the tin for about five minutes, then, transfer to a wire rack to cool. Allow to sit in tin for about 5 minutes, then, transfer to a wire tray to cool.
Make the chocolate cream by heating the cream until just bubbling around the edges. Add the chocolate and gently stir over a low heat until melted. Remove from heat.
Transfer to a bowl and allow to cool and begins to set.
Slice cake horizontally and use half the icing to sandwich the cake.
Spread the icing on top and sides of cake.
Serve with raspberries, blackberries, strawberries and cream.
Main ingredients
Dairy, Chocolate, Fruit, Eggs
Recipe Type
Cakes & Baking, Entertaining, Classics
Level of Difficulty
Easy
Do not cool icing in fridge as it won't turn out as glossy.
Cake can be made a few days in advance and wrapped in greaseproof paper, then iced just before serving.
Other recipes you may like
Trending and Sponsored