Easter biscuits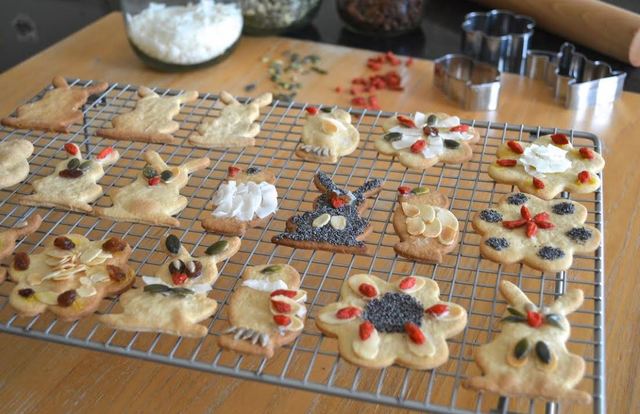 A tasty, no junk treat for Easter - the perfect substitute for a chocolate egg.
For the biscuits:
½ tsp baking powder
1 tsp ground ginger (or more to taste)
200g plain flour
75g cold unsalted butter, cut into cubes (or virgin coconut oil)
60mls maple syrup
To decorate:
Coconut oil, maple syrup or honey for sticking
Dried fruit such as: raisins, goji berries, etc
Seeds such as: poppy seeds, sunflower seeds, pumpkin seeds etc
Flaked almonds and flaked or desiccated coconut
Easter cookie cutters
Biscuits:
Preheat your oven to 180°C fan / 160°C fan / gas mark 5.
Grease and line two baking trays.
Stir the baking powder and ginger into the flour, then rub the butter and maple syrup into the flour with your finger tips, or pulse on and off in a food processer to combine into a crumbly texture, that will easily press together into a dough. Add a splash of water if needed to bring it together, but not too much.
Flour a clean work surface and gently knead the dough, just to bring it together.
Roll out to a 3mm thickness and cut out shapes using an Easter cookie cutter. You can add a small hole at the top of each biscuit if you like using a straw or a small sharp knife, so that the biscuits can be threaded with ribbon and hung up for an Easter display.
Place onto the baking trays and bake for about 10 - 15 minutes until golden.
Carefully transfer the cooked biscuits onto a wire cooling rack, and allow to cool completely before decorating.
Decoration:
You can decorate your biscuits with a selection of dried fruit, seeds and coconut, or leave plain if you prefer.
Decorations can be stuck to the biscuits using a small amount of coconut oil, maple syrup or honey.
Raisins, cut up goji berries and seeds make fantastic eyes for a rabbit or a chick. Flaked almonds or flaked/desiccated coconut, make great wings and feathers. You can also use fresh fruit to decorate, but then the biscuits will need to be eaten straight away.
Get children involved with the decorating and get creative!
Serves
makes 30 biscuits
Preparation Time
20 minutes
Cooking Time
30 minutes
Main ingredients
Dairy, Flour, Fruit, Spice, Seeds
Recipe Type
Cakes & Baking, Cake Stall, Cookies & Biscuits
Level of Difficulty
Easy
Why not display on an Easter party table or make a hole in the top of the biscuit before baking and hang the biscuits with ribbon around the house for decorations. They can be cut into Easter shapes or any other shape you like for a different celebration.
You'll find lots more tasty family and baby recipes created by the cooks at Organix at
www.organix.com
Other recipes you may like
Trending and Sponsored