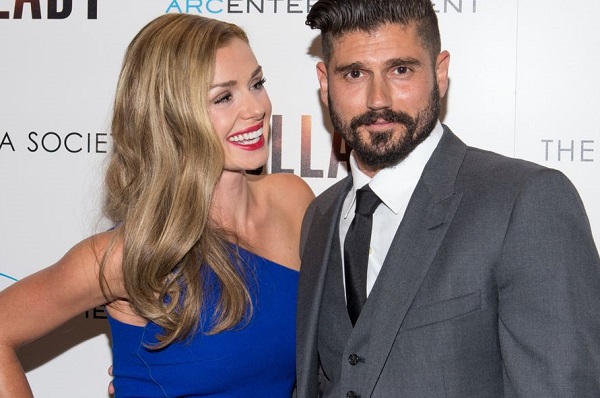 Katherine Jenkins and her husband Andrew Levitas have shared the wonderful news that they are expecting their second baby. The Welsh songstress took to Instagram to share the exciting news in the most heart-warming way.
The proud mum shared a photo of her daughter Aaliyah wearing a cape, she wrote, "Andrew and I are overjoyed that our family will be growing in 2018 with the addition of our second child - a baby brother for our little superhero Aaliyah!!!"
Katherine is thrilled to be expecting her first baby boy. The classical singer received tonnes of well-wishes from her fans.
One fan wrote, "Dearest Kath, what fabulous news #ManyCongratulations. We are really pleased & very happy for you, Andrew & your little #SuperHero Aaliyah."
Another added, "Soooo pleased for you wonderful news to wake up to this morning many congratulations to you both x."
"Yesssss!!!! Go team Levitas!! Absolutely thrilled for you all xxx," said another user.
Earlier in the month, Katherine admitted that she would love to have another child. The singer never thought she would adapt to motherhood as well as she did, she has loved every moment of it so far.
The mum told Hello magazine, "I would really love to have a second child and for Aaliyah to have a sibling, to have a friend in the world."
"It's all about timing", said the soon to be mum-of-two.
The opera singer shared that she never expected her life to turn out the way it did. Becoming a mum made her look at life in a different way.
Welcoming their first child into the world strengthened her bond with husband Andrew, "My husband and I love being parents. Aaliyah makes us so happy. She's fun, kind and affectionate – and a mummy's girl."
Like every mum, Katherine is always worrying about her daughter, she shared, "The world is a scary place. I worry about a lot of the things she will encounter in life."
With a little brother by her side, we're sure Aayliah will be safe and sound. We cannot wait for the little superhero to meet her baby brother next year.
Huge congratulations to Katherine and Andrew.
Fancy winning a year's supply of nappies? Just sign up to the Tesco Club here and you could walk away with this fantastic prize, worth £350. AND once you sign up you get a bonus 100 points on your card.