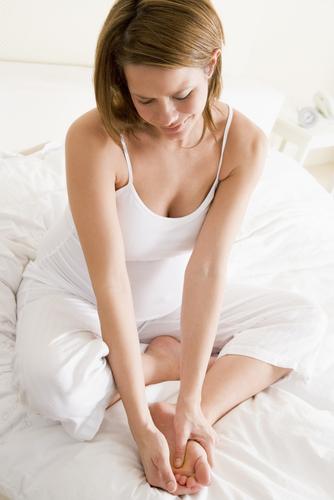 The nine months of pregnancy is a mix of gaining weight, trying to eat healthily, back pain and fatigue. Add swollen feet to the mix and you can have a very difficult and uncomfortable time.
If you suddenly awoke one morning with feet a size bigger than you went to bed with, the following will help you to feel a little better.
Why does it occur?
During pregnancy your body retains extra fluid – this is called edema - and due to gravity this often ends up in your feet. The heat, standing for long periods and quick weight gain can also cause it to happen.
What you can do
If your feet become a shoe size bigger, obviously your normal shoes will pinch you. Invest in a pair of inexpensive footwear that will take you through the rest of your pregnancy. Try to walk around barefoot whenever possible and sit down often throughout the day. When sitting, avoid crossing your legs and elevate your feet higher than your hips. Soaking them in warm water may help to relieve any discomfort.
Is it serious?
Swollen feet are common during pregnancy and are not usually cause for concern; however, if you notice other symptoms you should get it checked out. These might include swollen legs, pain, headache, chest pains, severe swelling in face. Other causes of concern include whether it is in one or two legs and how far along you are in your pregnancy as it can also be a sign of pre-eclampsia or even a blood clot. The swelling should go down a day or two after giving birth.
When to call the doctor
You should always call your doctor if you experience any of the above symptoms or if you are worried at all. Always trust your instincts.
How to prevent it
It is not possible to completely prevent it from occurring and, unfortunately, swollen feet might be something you will just have to deal with. However, the following might just help to reduce it and stop it becoming particularly severe or painful: eat foods rich in vitamin C such as oranges, potatoes, strawberries and broccoli; avoid foods which contain a lot of salt; don't wear tight fitting socks or shoes; drink plenty of water and stretch your legs whenever you can.