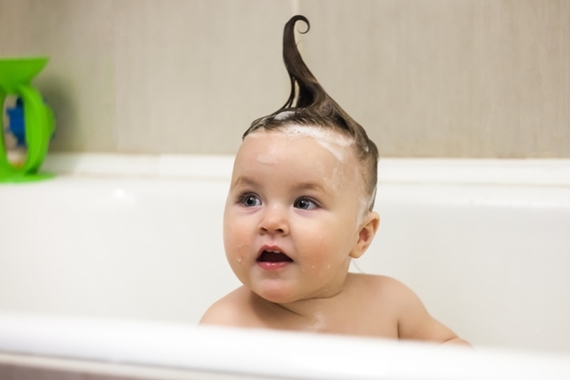 I'm a very lucky momma. My toddler is the kind of kid who will play happily to herself for hours. Like most of us parents, I often catch myself staring at the angel I created in awe of her perfectness. Sound familiar?
Skip to bath time, and I honestly don't know how I missed the demonic metamorphoses in the five minutes it took to run the bath. What was the epitome of childhood behaviour, is suddenly transformed in a small creature filled with frustration at the injustice of having to wet her head. The tantrum is… impressive, to be honest. Such emotion. Such fury! Am I wrong to consider never washing my toddler again EVER?
Here are five things you can relate to if bath time is a battle!
1. You Don't want to disturb their bubbly fun!
Does your baby sing in the bath? Does he play with little ducks and squirt water on you and you're clean bathroom floor? Now that you've got him in the bath, how can you disturb this playtime to wash and rinse? You have seen the mess he created at dinner a know this is a necessary step. Deep breath. Try and distract with a story or song? Good luck!!
2. My eyes my eyes!
From the moment they learn to express their feelings, your kid will tell what hurts! The drama is one thing, but when it comes down to it, finding a shampoo that doesn't sting can be tricky. Bath time is stressful enough as it is and your kids will be much more comfortable in water in general, if you can make the experience less… traumatic! When I discovered
Frezyderm Baby Shampoo
, bath time changed for the better. Their extra-gentle formula makes sure that your babies eyes will be safe and soap-less!
3. Sensitive Skin
At some stage of their baby-hood, you might discover that your kid's skin reacts angrily to the world around them. This is an outrage when you consider how perfectly soft and sweet-smelling it is! Wrinkly fingers and toes after a long bath can bring a dryness that can trigger skin irritation. Try Frezyderm's dermatologically tested
Baby Bath wash
. This little bottle, containing almond and chamomile to reduce irritation, can definitely make bath time more carefree!
4. Tears getting in and tears getting out!
It's a lose/lose situation. They have screeched and shrilled and soaked the bathroom floor. You are at the end of your tolerance-tether when you notice the time and begin the long process of getting out of the bath. Suddenly, she who made the world's biggest deal about being washed, begins a new tantrum about having to get out. Dear lord, can we ever win?
5. Curly or knotty?
Curls. We all have a love/hate relationship with our baby's lovely locks. Angelic? Adorable? Try knotty nightmare! After the bath, you try your best to tease the tangles. Not only this but they act like you are hurting rather than helping! If this struggle sounds familiar, you are not alone - that was me until
Frezyderm Sensitive Kids Magic Spray
made me the victor of the after-bath battle!