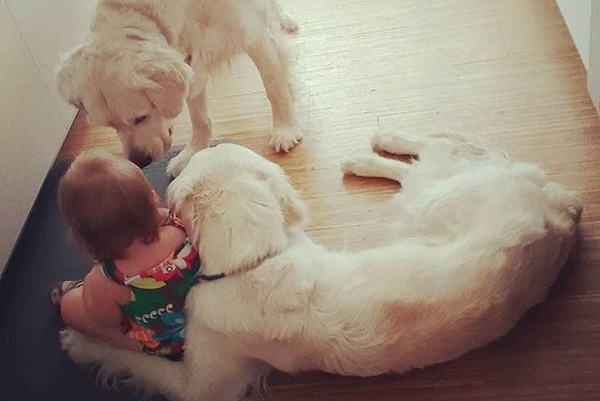 Talk about a great escape!
When Chris and Nina Cardinal found their 15-month-old daughter Chloe wandering around the hall they got suspicious. The toddler, too small to open doors yet had somehow woken up, gotten out of her crib, and out of her room.
"We were shocked! How was she able to get out of bed?" Chris question while speaking to ABC News. "This is the first time she's ever made an escape like this. Did she grow?"
Determined to get to the bottom of the mystery they turned to their baby monitor. They were surprise to see that daring Chloe had not one, but two accomplishments oon her great escape- the family's two golden retrievers, Bleu and Colby.
The clever critters can be seen opening Chloe's door, jumping up on the bed to wake her, covering her in kisses and even stealing her teddy bear to tempt her out of the room.
Chris theorized that the pups had figured out that Chloe could feed them as she recently started throwing them food from her highchair. One of the dogs, Colby, learned how to open doors a few years ago, and now is clearly use it to his and his brother's advantage!
Can't get enough of the pure unadulterated adorableness? The fluffy duo and their toddling sidekick are Instagram famous, know for their video and pictures of pure doggo heaven.
The best possible partners in crime.