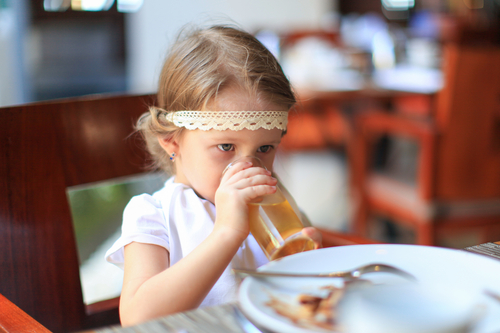 Restaurants are boring for kids, it has to be said! While we relish being served our dinner and not having to clean up after, kids would much prefer to be climbing on the backs of the chairs or mushing potatoes into their hair.
However, this shouldn't mean you have to put up your dining hats until the kids are better able to present themselves outside of the house!
Here are five tips to stopping your toddler throwing a tantrum at a restaurant.
1. Give them space when they start to have a meltdown
Ok, it's fairly embarrassing when you have a child kicking and screaming on the floor in the middle of a packed restaurant, but ignore the other diners for a moment and give your child space. Sometimes letting their anger out will leave them feeling a lot better.
2. Distract them
Bring colouring books, toys, snacks – anything that you know will help your little one avoid getting to the stage where they are about to explode. If you see one coming on, distract them by pilling their tables with items that you know will keep them occupied.
3. Find out what's annoying them
Young kids find it hard to explain themselves and this struggle can often manifest itself in the form of a dreadful tantrum. So if you see them struggling – with food, words or sitting in their chair – step in and help them out. You can always ask them to show you what the problem is by pointing it out.
4. Don't let them go hungry
In some restaurants, it can take a while for the food to end up on the table after ordering, and kids can get restless in the meantime. If possible, ask for the server to bring your child's main with your first course or ask for some bread to tide them over. You can bring some apple bites in your bag as well, but make sure you check with the restaurant before you take them out.
5. Give them an incentive to be good
While we don't mean bribe them, understand that kids can find restaurants difficult to deal with as they can be quite boring. So, before you even get there, say something along the lines of: "When we are in the restaurant, Mummy would like you to sit nicely and If you do this, we can go to the park afterward." A gentle reminder throughout the meal with keep them settled, but make sure it is a promise you can keep.