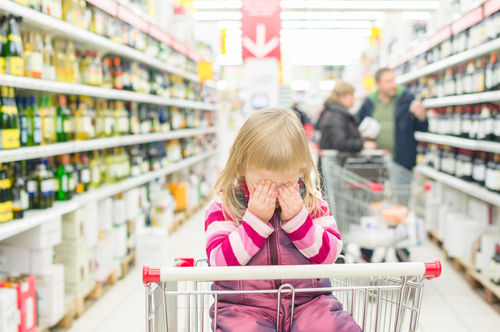 In an ideal world we would leave our toddlers in the care of someone else while we pottered around the grocery store taking our time picking and choosing the best products to buy!
But it's not an ideal world, and every now and then you will have to take your toddler shopping, and it can be a bit of an ordeal.
Thankfully, the following seven tips will help make it a little less stressful.
1. Give them a job to do
Give your toddler a job to do like crossing items off the list, calling out products and helping to carry the bags. This will keep them occupied and less likely to throw a tantrum if they are bored.
2. Keep shopping time to a minimum
Set yourself an hour to get the whole shop done and dusted. If you end up spending a long time wandering around the store your little one is likely to get bored and annoyed.
3. Write a list
Don't go shopping without taking a list with you. Write it in-line with the store's layout so you don't end up wandering all over the store trying to find items.
4. Feed them before you leave the house
A hungry child is a grumpy child so don't let it get that far. Instead, make sure your tot is well fed before you leave and pop a few carrot sticks or raisins into your handbag as a 'just-in-case'.
5. Let them bring a toy
Let your toddler bring one or two small toys that can sit with them in the trolley while you go around the store.
6. Make up a bag of fun
If you know you are going to be shopping for longer than 40 minutes, it would be a good idea to make up a small bag of fun containing paper, pencils and health snacks that you can pull out of your bag when you see a tantrum brewing.
7. Reward them for good behaviour
Make sure you reward your toddler for good behaviour at the end of the shopping trip. This will encourage them to behave the same the next time you go shopping.