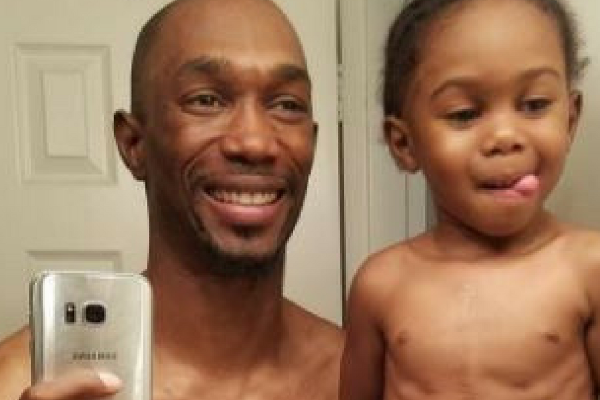 A dad and his young son are using the power of social media for good by sharing a special selfie of themselves to Instagram.
Chace Elijah Selby, aged three, has already been through more in his short life than many adults face in a lifetime.
The little boy was born with a congenital heart defect (CHD) called Tetralogy of Fallot. Chace has undergone open heart surgery TWICE, had surgery to insert his feeding tube, and spent over five months in hospital when he was younger.
One aspect of life with his CHD is being fed through a tube into his stomach. The toddler needs extra nourishment as he is underweight from birth, when he couldn't feed normally.
His dad already has dedicated a YouTube channel to Chace called The Life of Chace Elijah, where he uploads videos of his son's daily life, healthcare needs and special occasions.
But he wanted to find a way to raise more awareness about his son's condition and explain to other people what Chace's G-tube is used for.
He had the bright idea of taking one of Chace's tubes and taping it to his own torso for the shot.
Then, the dynamic duo flexed their muscles for the camera, both proudly showing off matching G-tubes on their stomachs.
His dad explained in the caption that he wants others to like, re-post and share the photo to raise awareness about Chace's condition.
He joked that his son was trying to imitate his six-pack by sucking in his stomach but because Chace is so thin, his ribs protrude instead.
The doting dad added: "As long as I'm breathing, I'll always support my son and he'll never be in a fight alone."
His dad has documented life with Chace's illness online, providing videos on topics such as changing his feeding tube and Chace's fear of needles.
Chace is now living a very full and happy life, going swimming and regularly attending birthday parties. His feeding tube doesn't hold him back at all, and he is a very happy and loveable child.
His dad calls him "Mr Steal Your Heart", and we can totally see why!
We admire this devoted dad and determined son, and we wish Chace all the best for the future.