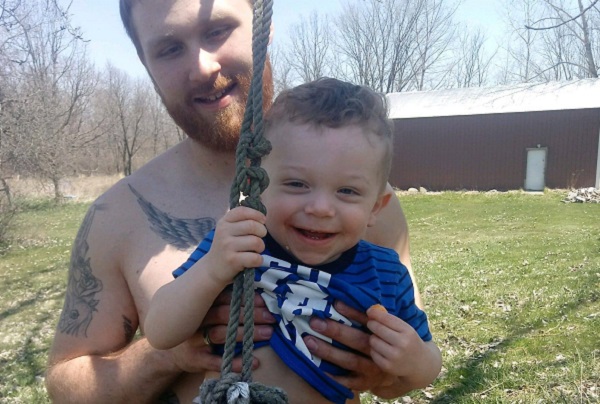 Boy's best friend strikes again.
When Myhia Perez and Derek Peake woke to discover that their two-year-old was missing, they immediately feared the worst. They frantically searched their Michigan home only to realise that the tot had let himself out of the house.
They immediately called the police. Searching the surrounding cornfields, woods and swamps all they found was Princeton's sippy cup.
"First thing I thought was he's face down in some water," Peake told local media. "I thought I was never going to see him again."
Mum Myhia Perez, continued to say that discovering her child missing was terrifying. "I about died," she said.
After arriving on the scene, police found paw prints from the family's dog, Apollo, leading away from the house. They were the tracks that would save the toddler's life.
"Without those dog tracks, without being able to track him for a half a mile in a muddy field, we wouldn't have had a good direction of travel of where that boy went," Sherriff Daniel Abbott explained.
The child was missing for over four hours, but eventually found safe- apart from a missing nappy and insect bites.
To show their gratitude to the brave dog that stuck by his side, the local police department showered him in treats and praises.
"I owe it to my dog, because if my son was alone who knows what could have happened," Peake said.
The young boy and his hero dog will certainly have a special bond for life.