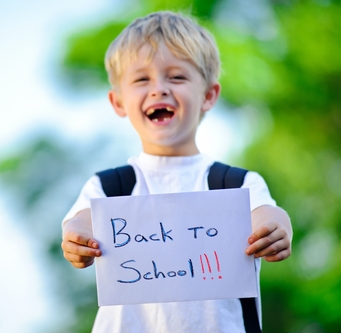 Going back to school can be a stressful time for both parents and children, and the change in pace can be tricky to deal with. In comparison to the hazy, lazy days of the summer holidays, many children will be anxious about going back to school while parents will not want to see them go. However, it doesn't have to be like this! Carey Ann Dodah of top tuition provider
Explore Learning
, has provided her tips on getting children excited about the prospect of going back to school:
Re-establish the old routine
During the holidays all of the work that you have put into term-time routine seems to go out of the window. Sensible sleep patterns can be the hardest to reinforce so it is good to start setting the alarm this week, before school starts, so that children can get used to the routine of getting up early.
Make it fun
No doubt you have been swarmed with 'back to school' offers for clothes and stationery. Make the back to school shopping experience fun by letting them pick out their new pencil cases and stationary that they can look forward to showing off to their friends when the new term begins.
Get them excited!
Ask them lots of questions about their new class – who will be their new teacher and what they are most looking forward to getting back into in the new academic year, for example, maths, art or English. Showing interest in all the exciting things the new term will bring will make children feel more grown-up.
Talk it through
If your child is suffering with start of term jitters, remind them that not only is it perfectly normal but that all their friends and even their new teacher are likely to feel the same! Organise play dates with your child's friends shortly before term starts so that they won't feel nervous about going back to school as much.
Drop in to Explore Learning
If you're a member of Explore Learning you can pop in at a time that suits you and your child can get some extra help with their English and maths. This can help boost confidence as children will feel happier about going back to school, knowing that their minds have got back into 'work mode'.