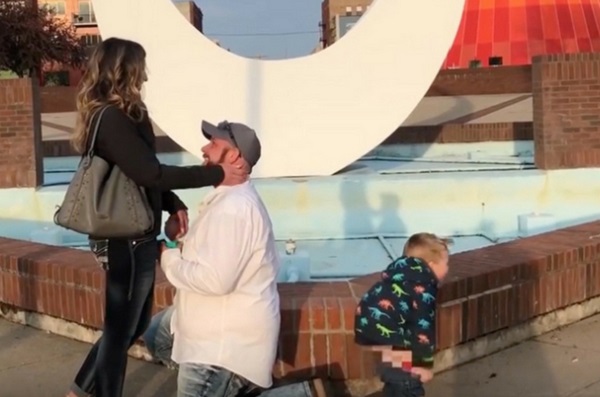 Proposals are supposed to be a magical moment. It's the moment where you both agree to spend the rest of your lives together.
Some proposals can be planned months, even years in advance. But one despite careful planning, one little guy completely stole the show.
When Kevin Przytula got down on one knee to propose to his girlfriend Allyssa Anter, he did not expect the surprise her toddler, Owen, was planning.
Just as the couple embraces in the happy moment, Owen climbs down from the fountain. Drops his trousers, and proceeds to go pee-pee.
As for the joyful duo, they're completely unaware of what's going on- until Allyssa's 11-year-old daughter, Kayleigh, whose videoing the special moment, breaks into giggles.
"He stole the show, for sure," Allyssa said. She continued to explain that Owen is currently potty training, but still hasn't grasped the concept of not peeing wherever he wants.
"He pees outside at home sometimes in the yard, and we went and got ice cream the other day and he did it in the parking lot there," Alyssa revealed. "He just does it without telling anybody, he just pulls his pants down and goes."
Well it's something that they'll remember for the rest of their lives, for sure!