With all of us tied to our desks and the days still dark and cold, it's hard to make time to get some exercise in at the moment.
And while we're wrecked anyway from working from home, trying to keep the kids organised and the house running, our kids aren't getting their usual PE classes or daily run around the playground as often as they should.
Their pent-up energy means they're wired at nighttime and end up making themselves even more exhausted.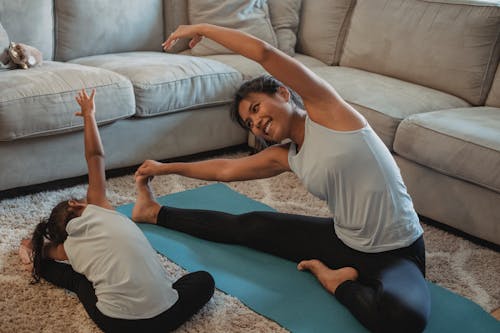 They might not be able to go to their PE classes right now, but it's still important to keep them moving. We've gathered together a few of our favourite YouTube kid's exercise specialists and their child-friendly, no-equipment work outs designed especially for young children. Using not only their muscles but also their imaginations, these videos will be great to keep them in an exercise routine, and maybe even allow you to get a few things done!
Miss Linky - Educational Videos for Kids
Jungle Exercise for Kids | Indoor workout for Children | No Equipment PE Lesson for Kids
Join Miss Linky in her magical classroom for fun, educational adventures. Kids will learn the alphabet, learn colours, learn letters, learn numbers, learn shapes, learn days of the week, learn months of the year, learn seasons and other popular pre-school and kindergarten themes. Enjoy fun, educational videos for children with a real teacher. Videos include popular topics such as farm animals, wild animals, sea animals, community helpers, family and home, personal hygiene, transportation, space, dinosaurs, monster trucks, tractors, planes, trains, boats, construction equipment, firetrucks, police cars, horses, pets, toys, healthy food, senses, parts of the body, exercise, nursery rhymes and educational songs!
The Body Coach TV
Active 8 Minute Workout 1 | The Body Coach TV
Joe Wicks is back and he's on a mission;
'We all need this for our mental health more than ever and exercising can help.'
His free virtual PE classes are posted to YouTube to try to encourage as many kids as possible to take part and keep active, even during lockdown. "Parents are going to be under pressure…and for 30 minutes a day I can take over and inspire and energise the kids to get active, bounce around and have fun. Videos are posted Monday, Wednesday and Friday at 9am. Enthusiastic, energetic and engaging, this one is sure to be a hit with the kids.
Cosmic Kids Yoga
Squish the Fish | A Cosmic Kids Yoga Adventure!
Yoga, mindfulness and relaxation for kids is taught through stories, adventures and quests. The chirpy presenter is full of fun and great ideas for getting kids into yoga in an interactive and creative way. Great for a good stretch, these videos have plenty of themes, from Under the Sea to Alice in Wonderland. Interactive adventures which build strength, balance and confidence - and get kids into yoga and mindfulness early!
GoNoodle | Get Moving
Trolls: Can't Stop The Feeling | GoNoodle
GoNoodle videos get kids moving to be their strongest, bravest, silliest, smartest, bestest selves. Over 14 million kids each month are dancing, stretching, running, jumping, deep breathing, and wiggling with GoNoodle at school each month -- and they're moving at home too! Turn screen time into active time with these great kid-friendly dance hits. Burn off extra energy on bad weather days, calm kids down before bedtime or exercise the whole family… together!
Dance 'n Beats Lab
Preschool Learn to Dance: Big, Blue Whale
Dance and Beats is a preschool learn to dance program. Young children dance to the award winning music and build coordination and balance by practising the key 21 moves. A few moves are integrated into each song. Lyrics support early learning on concepts that help children learn about nature, their community and ecosystems. Learn and play all at the same time!