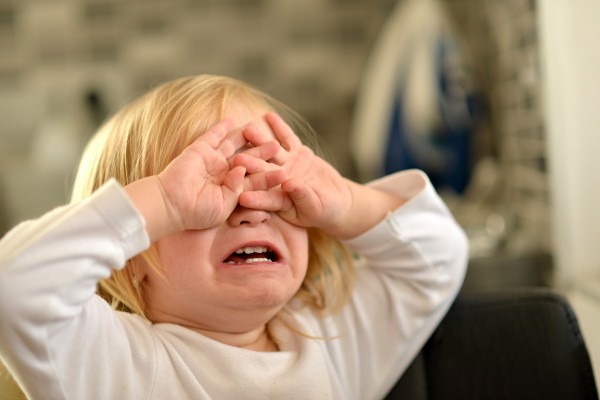 Living with a toddler can be chaotic at times, and if they're unimpressed or unhappy with something, they'll tell us all about it! So, what's the best way of tackling a toddler tantrum? One dad has figured out a GENIUS solution.
Reddit user 'User Below Is A Monster' is a father to a very sassy three-year-old, who was having a particularly bad day recently.
The father explains that his son was 'whining and complaining about everything'; ranging from his options for lunch, to his chores and having to watch his brother's TV show of choice.
In short, this little guy was being plain 'salty'; the slang word for someone who is throwing a tantrum or having a bit of a sulk.
When this dad accused the tot of being 'salty', it all clicked into place in his 'sarcastic dad-brain': he would use the analogy of the potato to teach his little one a lesson!
"You know when you're cooking a soup or a stew, you add a potato to it if it's too salty, because it will absorb extra salt," he explained.
"I found the biggest potato we had, and told him that he needs to hold onto this until he changes his attitude. He's too salty, and when he's calm and ready to say nice things, he can put down the potato and join us again."
Excuse us while we take a minute to picture this and laugh out loud!
So, was this just a hilarious anecdote for Reddit, or did this father's trick actually work? To quote him, 'I'll be' – it absolutely did!
"He thought it was so silly, and his mood changed. At first, he was confused and wanted to put it down, but I told him that he will absolutely – under no circumstances – put the potato down until he's in a better mood to compose himself," he revealed.
He summed up his experience with the most hilarious, yet accurate definition of parenthood we have come across in a long time: "Making sh** up and hoping our children can contribute to society and don't grow up to be as**oles".
We couldn't have put it better ourselves!
As you can imagine, the post garnered plenty of attention and laughter online.
"As a mother who tells her kids, 'Of all the flavours, why do you have to be so salty?', I might end up stealing this," commented one mother. Genius!