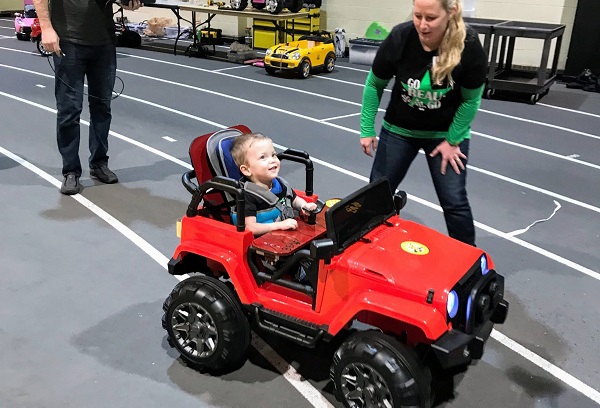 Toy cars never looked so cool.
For 6-year-old Levi Hagerty, his toy car is more than just another Power Wheels- it's a gateway to greater independence.
Levi, who has cerebral palsy and is quadriplegic, couldn't move or play independently, then his parents discovered GoBabyGo!
At the age of three, a toy changed Levi's life. As he sat in his new adapted car, he sped around the room laughing with his sister, while his parents cried with joy.
"It was the most exciting thing ever — that smile on his face," mum Nicole Hagerty told TODAY.
"It really builds his confidence," she continued. "He's come a long way."
Modifying toy cars to suit children with disabilities was originally a scheme in the University of Delaware. There are now about half a dozen chapters across the United States.
While Levi's verbal skills developed, he still remained physically impaired. Physicians said that a mechanic wheelchair would improve Levi's quality of life immensely- but his insurance wouldn't cover it. Doctors had to prove that Levi was able to control a wheelchair- that's where GoBabyGo cars came in.
Since 2015 volunteers have modified 60 of the little powered cars, adding harnesses to hold the children upright and speed regulators.
Not do the cars give the children independence but they provide something just as important- the ability to play.
"Instead of him sitting on my lap and watching the other kids in the backyard, he is in his chair trying run them over," Hagerty laughed.
More than just another toy, GoBabyGo is the future of disability aids.