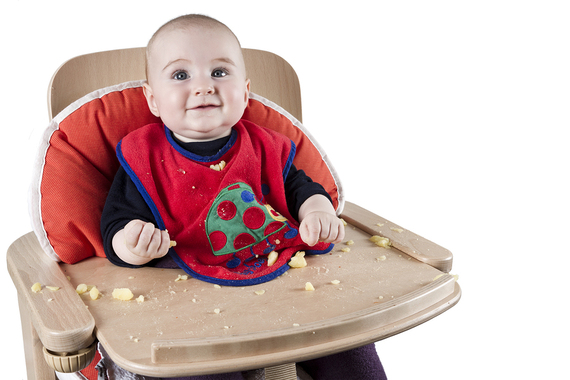 It can be pretty frustrating when your little one throws their food around, especially if you have spent a long time preparing it.
Thankfully, there are a few things you can do to stop this before it gets out of control.
Don't give them too much food
To save yourself the hassle of cleaning a bowl of mash up off the floor, only give your baby small amounts of food at a time. This way all your hard cooking efforts won't have been in vain as you can cut down on how much they can throw at a time.
Ascertain if they are actually hungry
Make sure your little one is actually hungry before you dish up dinner. If you are feeding your toddler at the same time each day and they only throw at one meal, schedule in feeding time to about 30 minutes later. This might eliminate food throwing due to the fact that they are not hungry.
Entertain them
For some toddlers, sitting in a highchair for 20-30 minutes can be boring, with food throwing being the consequence. To counteract the problem of boredom, give them a toy to play with while they eat or make aeroplane noises while you feed them. Try anything that is more fun than throwing food.
Take the food away
If they clearly aren't going to stop, simply take the food away saying, "food is not for throwing, so you mustn't be hungry". If you do try this approach you need to be consistent in how and when you do it. For instance, if your child throws food more than three times, take it away. Doing this consistently until they stop will help them to associate food throwing with a negative response.
Don't make light of the situation
Yes it can be funny when your little one throws their bowl of food over their head, but try to avoid laughing. This sends a positive reaction to your child which is exactly what they are looking for, so they will just continue to do it. Keep a straight face and say "no, that is not allowed".