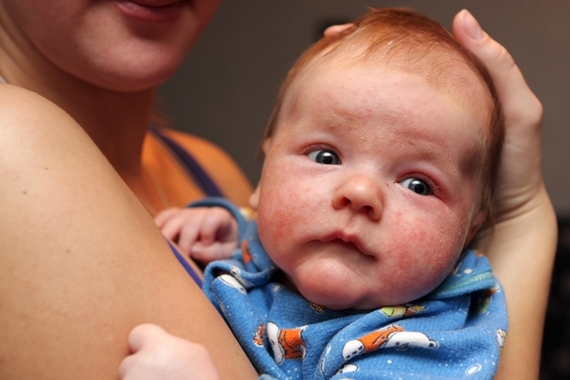 Bath time is so important for babies with eczema, it helps control the symptoms by keeping the skin clear and clean, it removes any previous ointment treatments and it removes old skin.
But it's not easy – on baby, or mum. But there are a few things that can be done to help
Moisturising once dry is really important, for this you can use the Atoprel Emollient Cream - it provides hydration, strengthens the skin barrier and protects and reduces itching and irritation. If bath time is done at night, this is the perfect opportunity to move into wind-down mode, with gentle baby massage, then PJs and bed, allowing plenty of time for overnight absorption.
Distracting baby is the best way to make this a good experience, so bring all the things your baby loves to the bath, whether it's music, rattles or bath toys, as you're bathing baby, your helper will be distracting
Don't use anything other than approved ointments that are specifically for eczema, even the most mild baby shampoo and soaps can cause irritation, so don't ever risk it.
FREZYDERM Atoprel range are popular and have a range of products that are really effective, such as the Atoprel Bath Cream – this is a rich cream specifically for dry, reactive and eczema-prone skin; it gently cleanses and hydrates the skin with antimicrobial agents. There's also a shampoo in that range called Atoprel Foamy Shampoo, that gently cleanses, moisturises and protects the hair and skin from microbial growth. It doesn't sting the eyes making it ideal for babies and children. The Atoprel Milky Bath oil is brilliant – it moisturises the skin, removing dead skin cells and increases elasticity. It provides anti-inflammatory and anti-irritant protection, that soothes and calms irritated skin - it's perfect for use when eczema has flared up . You just dissolve half a cap in 5-6 litres of warm water and place the infant in the water, and you don't rinse after.
Get the temperature right – the water should be lukewarm, if you're not sure, just use a thermometer
Don't bathe baby alone – this is the perfect opportunity for your little one to get their hands on those oh so itchy areas, so having another person on hand will help to keep an eye on those scratching fingers and keeping little on distracted
Quick & Dry – keep bath times short so nobody gets stressed out and it doesn't become an arduous task, and once out of the water, dry baby gently but thoroughly. Using a hooded towel is super handy to keep scratchy hands at bay, you should also have a second towel to gently pat down (distraction at this point is key also). Microfibre towels are really great, but what's even better is any old cotton clothing items that you don't use, like an old t-shirt/sweatshirt.
Don't forget to rinse the bath after with hot water, and make sure to use non-harsh detergents.